Currently in private beta
Share Media.
But fast and beautiful.
Showcase your media files through visually striking galleries, gather feedback, and allow others to download the original files.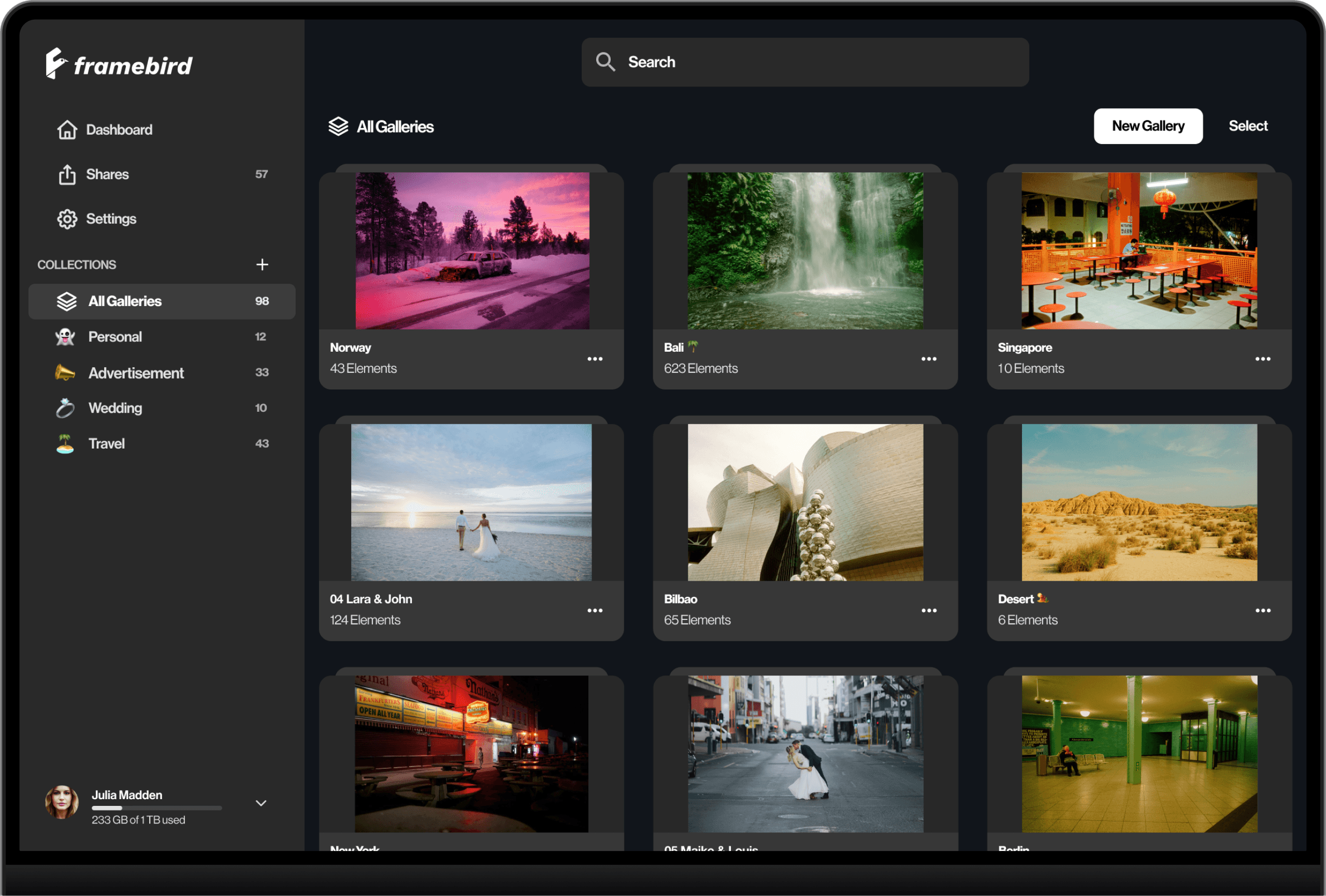 Share Media with ease
You can share with anyone by using a link without the need for them to have a Framebird.io account. Reviewers will receive immediate notifications and be able to interact on any device through their web browser.
Approve or decline
Clients can approve or decline media, enabling quick feedback loops without the need for emails or meetings. You can filter approved media and export it to Lightroom or Capture One within seconds.
Comment Media
Comment Media to quickly communicate with your clients and streamline your communication process.
Limit Downloads
Control who accesses your work by enabling or disabling downloads. This keeps your files secure when sharing.
Annotate Comments
Annotating media provides context to comments and reduces misinterpretation. They make it easier to explain ideas and ensure accurate feedback.
Make it yours
Customise every aspect of your shared pages, including the color theme, font style and logo, to ensure that your customers can easily recognise you or your brand.
Stay organized
Organize your media into galleries. Each gallery can have additional sub-galleries for better organization. Add tags to categorize and quickly find them later.
Archive your Media
Maintain an archive of your media in one secure place. All file types can be stored. Plans start at 100 GB of storage and can be extended without a limit.
Protect your confidential Files
Secure your confidential shares by adding a password, ensuring that only authorized individuals have access to the media.
Private and secure.
We follow industry best practices and GDPR rules to secure and protect your files. All of our data is hosted and processed in the EU.
Frequently Asked Questions
What is Framebird?
Framebird is a cloud storage primarily designed for photographers, artists, designers, and studios who work on projects, feedback rounds and client requests. However, its user-friendly interface and visually appealing design make it accessible to everyone, including those who wish to share vacation photos or other personal work.
What file types are supported by Framebird?
All file types are supported, without any size limit. Currently, only image previews are available, but Framebird will soon support previews for videos and PDFs as well.
What happens if I go over my storage limit?
If you exceed your storage limit, you will receive a notification letting you know that you have reached your capacity. You will need to upgrade your storage to the next bigger plan in your account settings to continue storing files.
Can I cancel my subscription anytime?
Yes, all of our plans are risk-free, and you can cancel your subscription anytime while retaining full access to that plan until the end of that billing cycle. If you have an annual plan, you can cancel it within the first 30 days of signing up. If you have a monthly plan, you can cancel it within the first 5 days of signing up. Additionally, if you want to downgrade your current plan, you can do so easily in your account settings.
What does Framebird cost?
Pricing information will be available soon. Please check back later.
Subscribe to our waitlist to receive updates